I have previously written about using music ( article link here ) and motivational quotes ( article link here ) as coping mechanisms. Today, I'll be writing about another coping mechanism I use – podcasts.
Firstly, for those who aren't aware of just what podcasts are, the Simple English Wikipedia page definition is:
Podcasting is a way to share information as digital audio files, People often subscribe, download, and share podcasts using a computer and listen to them on an MP3 player. Many podcasts are similar to broadcast radio news or discussion programs. Some use other formats such as a continuing story, comedy show, lecture, or audiobook.
A reasonable summary though it misses one vital piece of information – podcasts can also be listened to on most mobile phones these days. I have an Android phone and I listen to all my podcasts on that device via a podcast app.
Ofcom figures show that podcast popularity is booming in the UK, with the numbers having doubled over recent years, from 3.2m adults listening each week in 2013 to 5.9m in 2018. Findings back in 2018 suggested that comedy was the most popular podcast genre, followed by music, TV and film. Half of podcast listeners are under 35 with almost all podcast listeners tuning into radio at least once each week.
Additional stats from June 2019 show that there are currently over 750,000 podcasts in existence, consisting of over 30 million episodes.
Given those numbers, it is usually possible to find a podcast relating to just about any form of subject matter. A quick glance at the categories in the search option of the app I use shows a huge amount of content on subjects such as Arts, Audiobooks, Business, Comedy, Education, Games & Hobbies, Government & Organisations, Health, Kids & Family, Music, News & Politics, Religion & Spirituality, Science & Medicine, Society & Culture, Sports & Recreation, Technology, and TV & Film.
For the remainder of the post, I'll be sharing details of just some of the podcasts I frequently listen to. The first three listed here focus on subject matter of this blog (anxiety, low self-esteem, mental health) but I'll also mention others which may be of interest.
Happy Place (Fearne Cotton)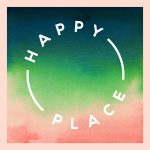 Following on from the success of Fearne's best-selling book 'Happy' this podcast sees Fearne draw on her own experiences, sharing advice from expert on how to work through feeling blue to find joy in life. The episodes feature some really interesting interviews, and at times some candid discussions, with the likes of Dawn French, Paloma Faith, Stephen Fry, Kirsty Young, Gok Wan, Emma Willis, Gary Barlow, Russell Brand, Mel C, Davina McCall and many others.
The Richard Nicholls Podcast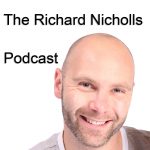 Richard is a hypnotherapist and psycho therapist who releases a monthly podcast (additional weekly episodes are available for a fairly modest monthly fee) aiming to inspire listeners to be 'the best you can be'. Currently approaching the 200-episode mark, this has frequently been the number one self-help podcast in the UK and rightly so. The episodes are succinct (usually around the 15 minute mark) and episode titles have included Dealing With Depression, The Need To Belong, Resilience, Self-Worth and Anxiety, The Dangers of Manning Up, Beating the Winter Blues, The Psychology of Stuff, The Happiness Paradox, Creating a Positive Mental Attitude, Why It's OK To Be A Loser, Loneliness & Social Networks, and many, many others. Richard comes across as a really genuine guy and this is one podcast I'd certainly advise checking out.
Dreamer's Disease (Alex Manzi)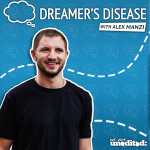 A recent find for me and I'm really glad I stumbled across it as this is a great podcast. Categorised as a lifestyle podcast, Alex shares his own experiences and those of other inspirational people, finding out what they do, why they do it and their motivation for doing so. Despite being something of a self-help podcast, Alex does address mental health struggles and self-care on a frequent basis. His original aim was to spread inspiration to those who seem lost and I absolutely believe Alex when he says that he wants to inspire people to begin the journey of bettering themselves. I find Alex's podcasts to be engaging, completely honest and firmly rooted in the real world and I look forward to the release of each new episode.
Side Hustle School (Chris Guillebeau)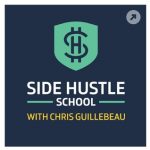 The primary objective of Side Hustle School is to help listeners create a new source of income without quitting the day job (though many people featured in the podcast have been able to do just that). Chris was already a recognised and respected author when he started the podcast at the beginning of 2017 though his commitment to the cause (3 years in and he continues to post a new episode every single day of the year) has only increased his importance and influence in the world of podcasting. Each daily episode is ridiculously succinct (10-12 minutes, quite often less) and features a story of a listener who has created an additional source of income. Some of the stories are astonishing – you will be amazed at some of the ways people earn additional money – and it always makes for compelling listening. Inspiring, entertaining and frequently featuring lightbulb moments which will make you think about ways in which you can start a side-hustle and begin earning extra money. Searh through the notes relating to the 968 shows to date here and listen to a couple that take your fancy. To get a sense of just what is possible, why not start with episode 2 – British Man Earns $700 / Month Writing Fish Tank Reviews. As Chris himself says – the stakes are low and the potential is high…
The Tim Ferris Show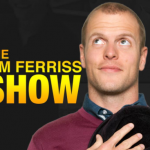 I've mentioned Tim, particularly his book Tools of Titans, in previous posts and this podcast is a behemoth. Frequently ranked as the #1 business podcast on Apple podcasts, it is the first business/interview podcast to pass 100,000,000 downloads and for good reason. It has now surpassed a total of 400m downloads and has won numerous podcast awards. Tim is a best-selling author and his podcast deconstructs world class performers from eclectic areas, digging deep to find the tools, tactics and routines they've used which listeners can aim to adopt. This includes favourite books, morning routines, exercise habits, time-management tricks and much more. There are close on 400 episodes and previous guests have included the likes of Arnold Schwarzenegger, Tony Robbins, Jamie Foxx, Vince Vaughn, Ed Norton, Lebron James, Neil Gaiman and many more. These are lengthy episodes, often 90-120 minutes (some are longer) but it is well worth investing the time into these.
Desert Island Discs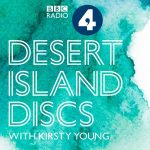 Desert Island Discs doesn't really need an introduction, does it?! It's just a great, easy listen. Always interesting and, at times, the subject matter of my blog does figure. A significant number of guests have opened up to a degree and it's always provides a fascinating insight into the lives of people who we often think we know well but soon realise that isn't necessarily the case. Desert Island Discs has been around since 1942 and long may it continue.
Fighting Talk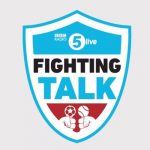 A 60-minute weekly dose of pure escapism, Fighting Talk is a Radio 5 show which takes a hilarious look at the volatile world of sport. 4 guests (the line-up changes each week) compete for points with their sporting knowledge and punditry. This isn't a serious quiz – it's frequently hilarious and Colin Murray is effortlessly brilliant as the host. If you like sport and fancy laughing out loud on numerous occasions, give this a try.
Pop Master (Radio 2 / Ken Bruce)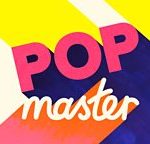 I admit – I'm a bit of a quiz fan. I also love music so Pop Master has to figure on this list. The long-running radio 2 quiz was finally turned into a podcast format earlier this year. I must admit – I got a little giddy when I found out as I rarely get the chance to listen to the original broadcast (10.25 each weekday morning) but I can now get my fill on a daily basis. Ken Bruce is the Godfather when it comes to radio quizzes and Pop Master holds a big place in my heart. Be warned though – it can affect your daily mood quite significantly! Hit the heady heights of scores in the late-20's / early-30's (or, on rare occasions, the heady heights of the maximum 39) and you'll have a spring in your step for the remainder of the day. However, scores in the low-teens or below will ensure you're like a bear with a sore head – you have been warned!
Sodajerker On Songwriting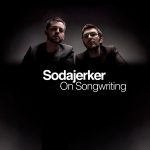 Perhaps a niche entry that may only be of significant interest to musicians, this is nonetheless a fantastic piece of work. Sodajerker is a song-writing team from Liverpool, consisting of Simon Barber and Brian O'Connor. The podcast consists of Simon and Brian interviewing some of the world's most successful songwriters and discussing their work. Their passion and phenomenal musical knowledge is evident in every single episode and the absolute delight they clearly take from being able to do this is infectious and a joy to listen to. Even if you're not a musician, take a look through the episode list and have a listen if any of your favourite artists figure here – there's plenty for non-musos to take from each episode. Previous guests include Paul McCartney, Noel Gallagher, Nile Rodgers, Paul Simon, Alicia Keys, KT Tunstall, Sting, Elvis Costello, Emile Sande, Glenn Tilbrook & Chris Difford, Paloma Faith, Dido, Gary Numan, Kevin Godley, and many, many more. Truly a labour of love for Simon and Brian, this is a delightful podcast.
The Bottom Line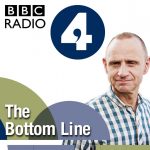 Hosted by Evan Davis of Dragon's Den fame, this provides a great insight into the issues of the day within British business. Episodes are fairly short (around the half-hour mark) and guests provide fascinating insights into topics as varied as discount shopping stores, connections between business and crime, the fitness industry, the magazine industry, premium alcohol brands, festivals, franchising, and many, many more.
The Two Shot Podcast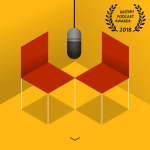 Another relatively recent find for me, this is hosted by one of my favourite actors – Craig Parkinson. Originally a podcast discussing the highs and sometimes extreme lows of becoming and being an actor with special guests, it's now broadened a little, with musicians and comedians now added to the guest list. At a count of around 100 episodes now, this is a great listen and well worth bookmarking. Craig is a great host – genuine, warm and seemingly very adept at putting his guests at ease. The conversations are always interesting – often amusing but also, on occasion, addressing pretty serious and thought-provoking subject matter.
Justin Moorhouse – About 30 Minutes, No More Than 45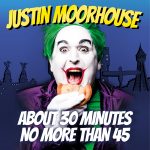 Justin is absolutely one of my favourite stand-up comedians. I've seen him live 4 times now, he's consistently brilliant, and, quite frankly, should be playing far bigger venues than he currently does (basically, if you get the chance to see him, please do – you won't regret it). However, the reason why this particular podcast makes for essential listening is that it provides a warts-and-all insight into the life of a stand-up comedian which we don't always see or appreciate. It isn't full of 'look at me – aren't I amazing?' moments or clips from prestigious award ceremonies. Justin frequently records snippets of his day-to-day life, including interviews with fellow comedians, friends, family members and a whole host of other people, to provide the most authentic representation to date of the 'real' life of a comedian. It covers the highs and the lows of the career, including the good gigs and the bad, the frustrations of trying to make a living in comedy, life on the road, how family life is affected, and so much more. In next to no time, you are left in no doubt that you are listening to a man who has no desire to paint a false, glorified image of his life – this is a seeringly honest reflection of life. Frequently laugh-out-loud funny (as you would expect) but also poignant and heart-warming, this always makes for compelling listening. I'd also like to thank Justin again for referencing this blog in one of the episodes, when I asked him a question (within his regular 'podcast postcast' feature) regarding comedians and anxiety. He gave a very honest answer and kindly shared details of the blog, which I am hugely grateful for. If you're interested in listening, it's at the 34-minute mark of this episode:
http://justinmoorhouse.libsyn.com/you-cant-just-do-it-by-memory
Fingers on Buzzers
https://play.acast.com/s/fingersonbuzzers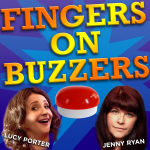 Quiz-geek alert! Hosted by Jenny Ryan (a.k.a. 'The Vixen' from ITV's 'The Chase') and comedian and keen amateur quizzer Lucy Porter, this is a great podcast for any quiz fans out there (and I'm not just waxing lyrical about it because Jenny is a fellow Boltonian…!). This covers a huge range of quiz-related themes, from speaking to people who work on our favourite quiz shows past and present to hearing from epic winners and losers of quiz shows past and present, from Bullseye and Blockbusters to Britain's Brightest Family and everything in between, as well as themes such as the etiquette of pub quizzing, new quizzing technology, and how questions have changed with the times. Jenny and Lucy's enthusiasm and love of the subject matter shines through in each episode and this is a joyous bit of escapism from the humdrum of daily life.
I Like Films with Jonathan Ross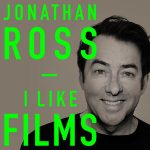 I am a big film buff and I've maintained for years that, away from the cheeky chappie chat-show host persona, Jonathan Ross is a ridiculously intelligent man and something of an authority on a number of subjects, especially film. As with other selections here, that knowledge and enthusiasm results in a great podcast, with Jonathan interviewing a number of revered film stars, directors and others connected to the world of cinema to hear about their latest releases and what life is really like in the motion picture industry. The episodes come in at around 30-40 minutes and cover a huge amount of content in that time.
I'll leave it there for now! I've barely scratched the surface of the podcasts I'm currently subscribed to (around 50 or so currently, with 308 episodes currently sitting in my 'to listen to' playlist!) though I've tried to list my favourites / regular listens here. I hope this is of use – if you haven't yet dipped your toe into the world of podcasts, please do. There's a huge amount to take form them. Also, please do let me know if you have any essential listens which you'd recommend – I'm always on the lookout for interesting and entertaining new podcasts to try out, particularly around the themes of anxiety / low self-esteem / mental health / self-improvement.
Thanks again for taking the time to read this – I really do appreciate it.
Until next time.
Best wishes,
Mick